McDonald's Philippines Cheese Dunk Menu: A Cheesy Delight!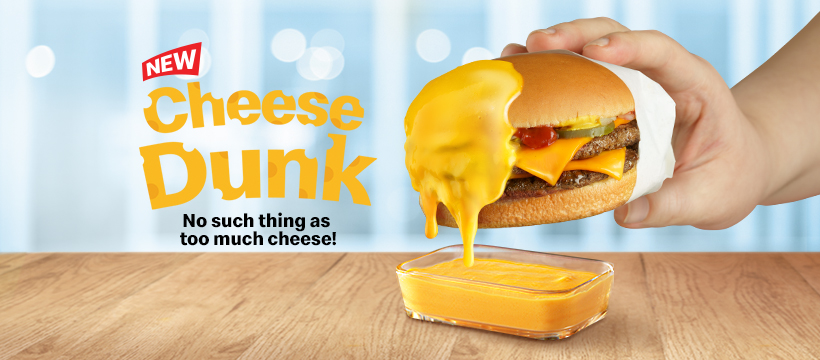 Are you a cheese lover looking for your next fix? Well, look no further! McDonald's Philippines has just launched their new Cheese Dunk menu, and let me tell you, it's a game-changer.
Now, you might be wondering, what exactly is a Cheese Dunk? Is it some sort of cheese-filled basketball? No, not exactly. The Cheese Dunk is McDonald's latest offering that allows you to dunk your favorite McDonald's items into a gooey, melted cheese sauce. Yes, you read that right. You can now dip your fries, nuggets, or even your burger into a pool of cheesy goodness.
But wait, there's more! The Cheese Dunk menu also includes new items like the Cheesy Burger McDo, which features a juicy beef patty topped with cheese sauce, caramelized onions, and crispy bacon bits. It's like a party in your mouth, and everyone's invited.
And if you're feeling particularly indulgent, you can upgrade your Cheese Dunk experience with the Cheesy Shake Shake Fries. These fries are coated in a special cheese powder that's sure to satisfy even the most hardcore cheese lovers out there.
Now, I know what you're thinking. Is the Cheese Dunk menu really worth it? Is it just a gimmick? Well, I can tell you from personal experience that it's the real deal. The cheese sauce is perfectly melty and delicious, and it's the perfect accompaniment to any McDonald's item.
But don't just take my word for it. Head to your nearest McDonald's in the Philippines and try the Cheese Dunk menu for yourself. Trust me, your taste buds will thank you.
And there you have it, folks. The Cheese Dunk menu is the newest addition to McDonald's Philippines' already impressive lineup, and it's sure to satisfy all your cheesy cravings. So go ahead, dunk away!
---
---