How To Cook Paksiw na Bangus recipe
Paksiw na bangus recipe or Milkfish In Vinegar Stew is a typical dish in Filipino cuisine. It is effortless to prepare as milkfish. In vinegar, the Stew instructions are easy to follow why a lot of Pinoys love it.
What is The Best Paksiw na Bangus Recipe
Filipino's Paksiw is vinegar base, and we all know that vinegar is a liquid ingredient that helps preserve food longer, so there's no worry even if you put it in the fridge and let it stay there for weeks. Also, vinegar is a perfect partner of any fish as it removes the fishy odor, which anyone hates.
Milkfish commonly lives in tropical offshore marine waters around the islands and along continental shelves, at depths of 1 to 30 m. They also frequently enter estuaries and rivers.
Fish is low in Sodium. It is also a good source of Vitamin B6 that is important for normal brain development and keeps the nervous system and immune system healthy.
Regularly eating milkfish helps fight cardiovascular diseases and helps you maintain the average pace of your body's metabolism.
Milkfish In Vinegar Stew is delicious, especially with hot and newly cooked rice with fish sauce as the balancer. Thus, the perfect time of the day to eat it is morning for breakfast as it can awaken you with its sour taste and smell.
How to Cook Paksiw na Bangus
This is probably one of the top 10 easiest recipes in this site. There are only 2 major steps in the process. The first is to combine all the ingredients together in a pot. There is a sequence as to which ingredient goes first and where to position it. The next is to boil until fully cooked. This dish should be done in around 15 minutes.
I don't usually keep leftover fish for more than a day. This dish is an exception. I can cover the dish tightly with a cling wrap and leave it in room temperature for hours. It does not spoil easily. This can also be kept in the fridge for upto 2 days. I usually fry my leftover paksiw na bangus recipe. I like how it resembles the taste of marinated daing na bangus.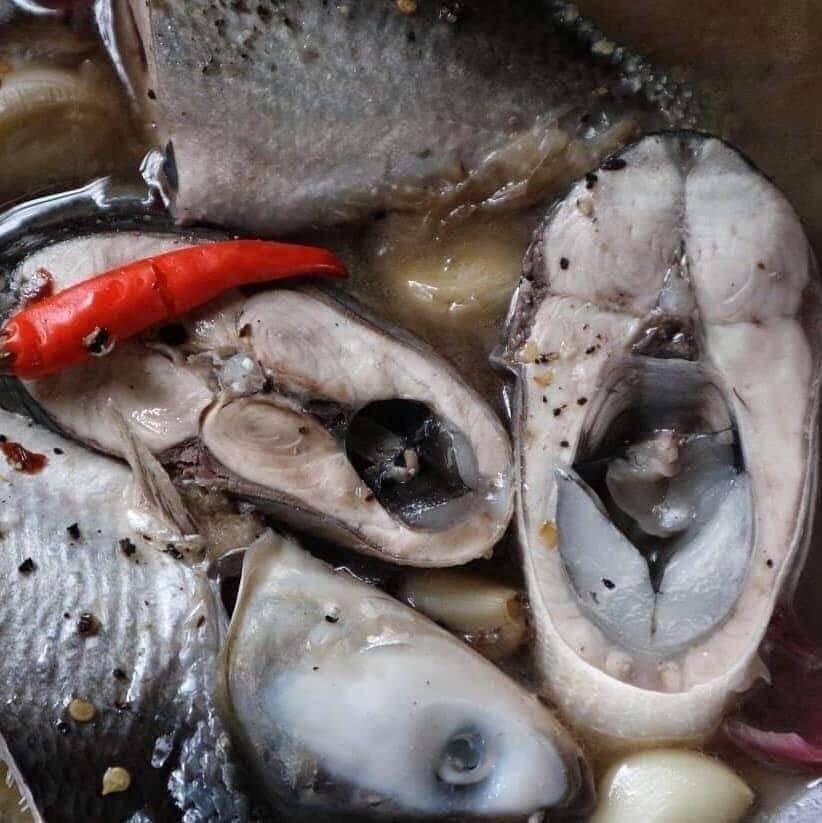 Paksiw Na Bangus with Ampalaya Recipe
Paksiw na Bangus is a comfort food to most Filipino. This dish is made with Bangus (Milk Fish) simmered in vinegar, garlic, onions, ginger and with desired vegetables like eggplant, bitter melon, etc. Easy to cook, very satisfying and you will definitely need lots of rice.
Ingredients
1

Large

(1 1/2 to 2 lb.) Bangus

cut into 6-8 pieces and cleaned

1

cup

Vinegar

2

large

Ampalaya

cleaned and sliced thick

2-3

pcs

Siling Haba

2

thumb size

Ginger

sliced thin

4-5

cloves

Garlic

sliced thin

1

Medium

Red onion

Sliced

1/2

Cup

Water

2

tbs

Cooking oil 

Salt and Ground Pepper

to taste
Instructions
Place ginger then the bangus in a wide pan. Topped with garlic, salt, ground pepper, vinegar and water.

Bring into a boil uncovered over medium high heat. Once it starts to boil, reduce heat to medium low and add Ampalaya, Siling Haba and onion slices. Simmer for 5 to 10 minutes or until Bangus and Ampalaya are fully cooked. 

Add cooking oil and simmer for few minutes. 

Garnish with slices of green onion and serve hot. Enjoy!
More Fish recipes > Fish Recipes
---
---