Pininyahang Manok Recipe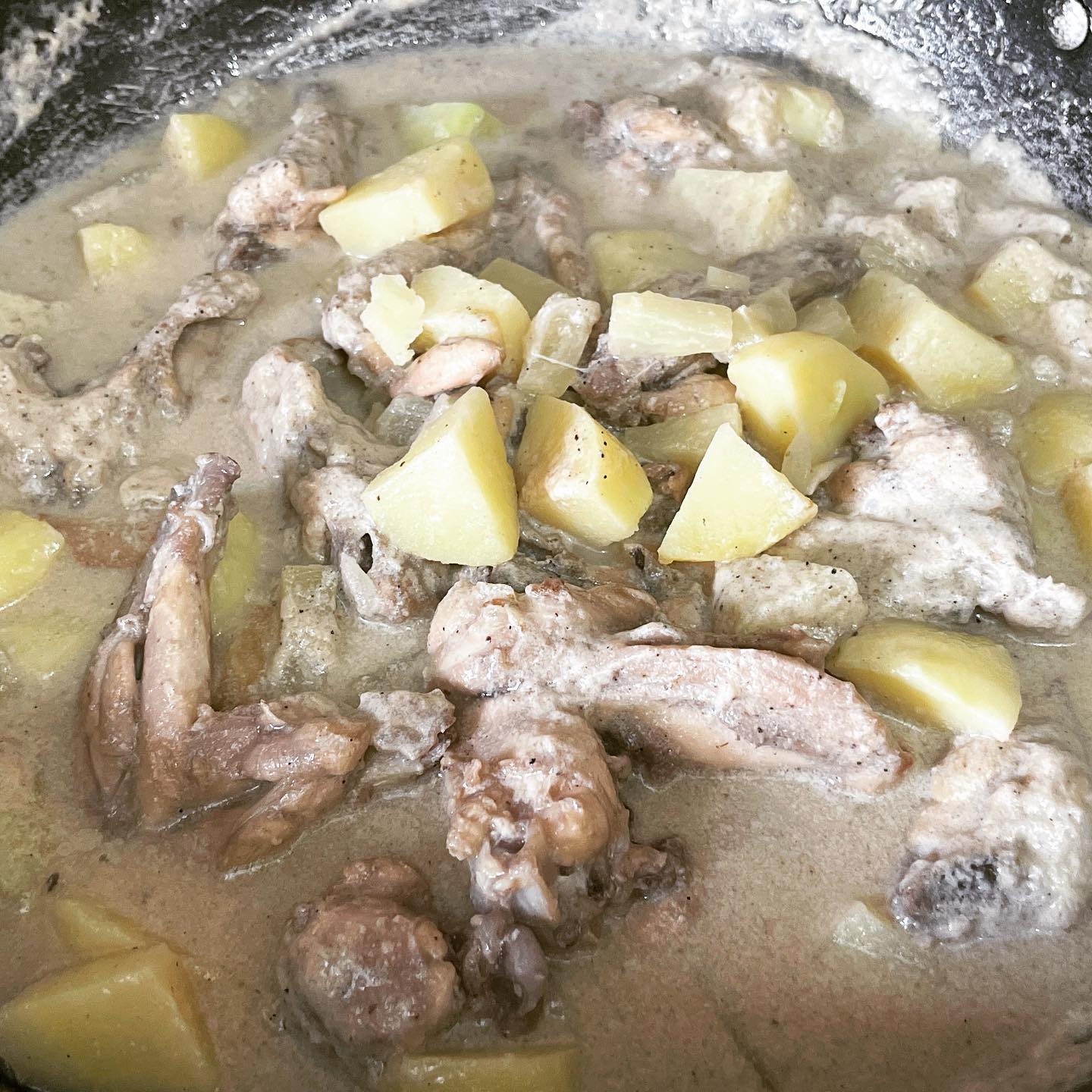 The Pininyahang Manok, or Filipino pineapple chicken dish, is a dish that is simple to prepare but rich on flavor!
I'm sure most of you at home are struggling to come up with the perfect dish to create that doesn't take a culinary degree but will please your family or guests. I recommend that you try this unique dish right away because you will not be disappointed!
Continue reading the recipe article below for more information and advice on how to make pininyahang manok.
The technique of cooking Ginataang manok is the same with Pininyahang Manok, you need to be consitent.
WHAT IS PININYAHANG MANOK?
Pininyahang Manok, or pineapple chicken, is a popular Filipino meal in which chicken is cooked in a creamy sauce prepared with milk, pineapple juice, and pieces.
Traditional recipes call for coconut milk because of its thick consistency, but you can use table cream or all-purpose cream, which is what this recipe calls for. Carrots, potatoes, bell peppers, garlic, and onions are among the other ingredients.
You may be interested in trying out these Filipino chicken dishes:
HOW TO COOK PININYAHANG MANOK?
Who'd have guessed that a pininyahang manok appears to be difficult to prepare may actually be quite simple? With this one-of-a-kind recipe, you'll prepare something that is both simple to prepare and opulent in taste. Here's a link to a thorough description of how to prepare it:
To begin, make sure you have enough time to prepare the food so that we can enhance the tastes.
While you're chopping away the other ingredients, soak the chicken in the pineapple juice (which is also included in the container with the pineapple pieces). This will give the chicken an extra sweet kick when you eat it later.
It will be a simple cooking process after you have all of the ingredients ready. If you've cooked other famous Filipino dishes before, this should be simple enough.
If you want to incorporate the potatoes and carrots, you'll need to softly fry them first before sauteing the other ingredients, such as onions and garlic, and cooking the chicken.
The next step is to pour in the pineapple juice and bring it to a boil. After that, reduce the heat to low and stir in the pineapple pieces and the cream.
Keep an eye on it and stir thoroughly to ensure that everything is evenly distributed. The simmering will take some time because you want to make sure the chicken is tender.
After that, add in the bell peppers, as well as the other seasonings and spices for the final touches. And that's it!
HEALTH BENEFITS OF THIS DISH
Pininyahang Manok is healthy. It has a good amount of protein and vitamins. We can even make it healthier by using healthier types of oil for sautéing. Olive oil is a good example.
Chicken is high in protein, how about pineapple? Here are some benefits of pineapple that you should know.
Pineapple: 8 Impressive Health Benefits
Loaded with nutrients.
Contains disease-fighting antioxidants.
Aid digestion.
Reduce your risk of cancer.
Boost immunity and suppress inflammation.
Ease symptoms of arthritis.
May speed recovery after surgery or strenuous exercise.
Easy to add to your diet.
Source : Healthline
Pininyahang Manok Recipe
Pininyahang Manok is a superb chicken dish that has been past down from generations to generations.
Ingredients
2

lbs

Chicken

cut into serving pieces

12

ounces

Pineapple Chunks

canned

2

pcs

Tomato

chopped

1

cup

Bell Pepper

cut into thick strips

1

pc

Carrot

wedged

2 1/2

tbsp

Fish Sauce

patis

1/2

cup

Fresh Milk/Evaporated Milk

carton/canned

2

tbsp

Garlic

minced

1

pc

Onion

sliced

2

tbsp

Cooking Oil/Butter

1

pc

Tomato Sauce/Catsup

small pack/half bottle
Instructions
Marinate the chicken in pineapple juice/concentrate (derived from the can of pineapple chunks) for 20 to 30 minutes

Pour the cooking oil in a cooking pot / casserole then apply heat

Sauté the garlic, onion, and tomatoes

Put-in the chicken and cook until color of the outer part turns light brown

Add-up the pineapple juice/concentrate marinade and fresh milk or evaporated milk then bring to a boil

Add the pineapple chunks and simmer until the chicken is tender and half of the liquid evaporates (about 20 to 30 minutes).

Put-in the carrots and simmer for 5 minutes

Put it the bell pepper and fish sauce then simmer for 3 minutes

Add 1 pack of tomato sauce or half bottle of banana catsup then simmer for another 3 minutes

Remove from the cooking pot / casserole and transfer to a serving dish.

Serve hot. Share and enjoy!
Watch Chef RV's Pininyahang manok version too!
---
---