How to Cook Filipino Ginataang Kalabasa at Sitaw with Alimango/Alimasag (Crabs)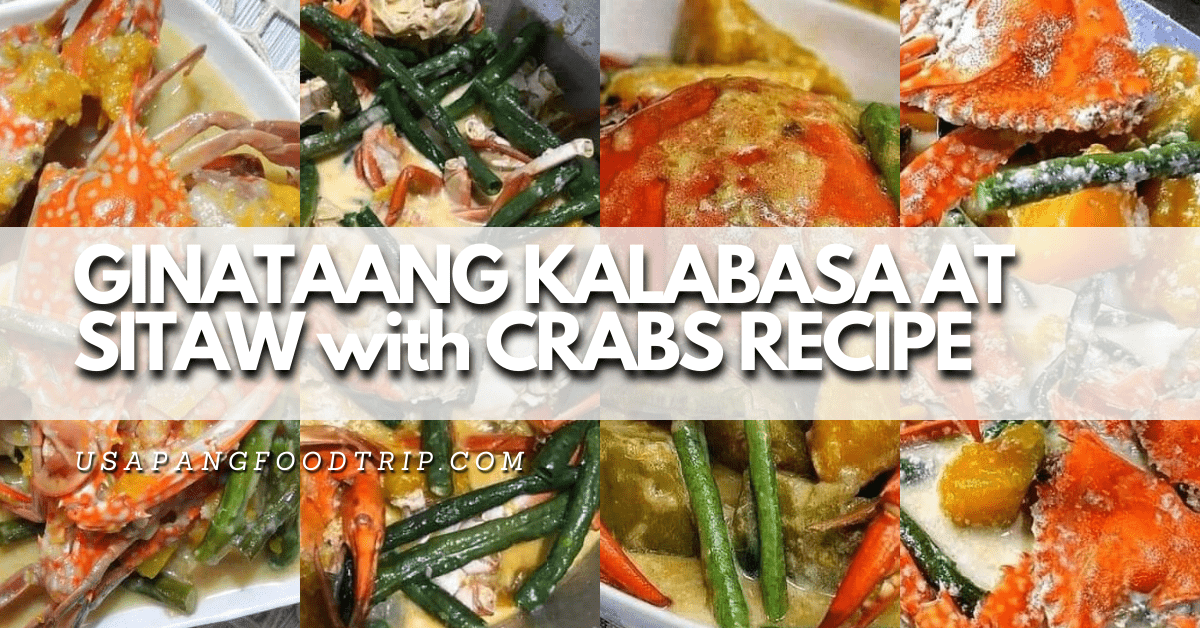 Ginataang Sitaw and Kalabasa come in a variety of flavors, but this one is my favorite because of the crabs. I prefer this dish with alimasag/alimango (blue crabs/mud crabs); the crabs' flavor complements the vegetables and coconut milk.
I always add an extra cup of rice when I make this vegetable and crab meal since the exquisite flavor of this dish always makes me hungry. But I have to be careful about how much rice I eat, so I only eat 2 cups at a time.
Do you want to make this Ginataang Kalabasa at Sitaw with Crabs (alimasag/alimango) it even healthier? Add a couple kangkong packages to the mix. This dish is the ideal pick-me-up and will keep you going throughout the day. Allow the coconut milk to simmer until it gets somewhat greasy in consistency, which will give your meal creamy undertones. With a side of steaming white rice, this dinner is complete!
Benefits of this recipe
The ideal thing about Ginataang Kalabasa is not just about its taste but the fact that it is also a nutrient powerhouse. So we also listed down the benefits you can get from these veggies.
Squash (Kalabasa) is loaded with Vitamin A; in fact, a cup of it is more than enough of the daily recommended intake. Vitamin A helps in the maintenance of the immune system and promotes healthy eyesight. 
Sitaw or String beans are rich in Vitamin A, C, and K. 
Tips
As a treat, here are some tips that you can consider to ensure that you'll be able to nail this Ginataag Kalabasa at Sitaw with Alimango/Alimasag (crab) recipe.
If you are to use fresh coconut milk, and you'll be the one to squeeze them, do not discard the grated coconut after the first press. Pour some warm water onto it, press for the second time, and use gata as a substitute for water. It will give you a creamier taste and thicker consistency.
To prevent the string beans from being overdone, blanch them in boiling water for about 20 seconds before adding them with the rest of the ingredients. It also helps in retaining its deep green color.
You can try other Filipino Style Seafood Recipe
Ginataang Sitaw at Kalabasa with Alimango/Alimasag or Crabs Recipe
This dish is very delicious because of the creaminess of the gata used in simmering it. Have a taste of it using these uncomplicated and quick steps. Happy cooking, and be sure to share this with your family and loved ones!
Ingredients
4

lbs

Fresh Blue Crabs or Mud Crabs

1

lbs

Squash or Kalabasa

sliced into cubes

1

bunch (tali)

String Beans or Sitaw

about 3 to 4 cups, cut into 2.5 inch length

3 1/2

Cups

Coconut Milk or Gata

1 1/2

tbsp

Fish Sauce or Patis

1

tsp

Medium Onion

Sliced

2

tsp

Garlic

Minced

2

tbsp

Cooking Oil
Instructions
Heat a cooking pot and pour cooking oil.

Add fish sauce and coconut cream, and then let boil.

Put-in the ground black pepper, and then cook for 10 minutes in medium heat until the liquid reduces.

Put-in the crabs and stir. Cook for 10 minutes.

Add the squash (kalabasa) and cook until the squash becomes a little soft.

Add the string beans, stir, and cook for 3 to 5 minutes.

Turn the heat off and transfer to a serving plate.

Serve with hot steamed rice.

Take a picture and Enjoy!!
---
---