How To Cook Beef Pares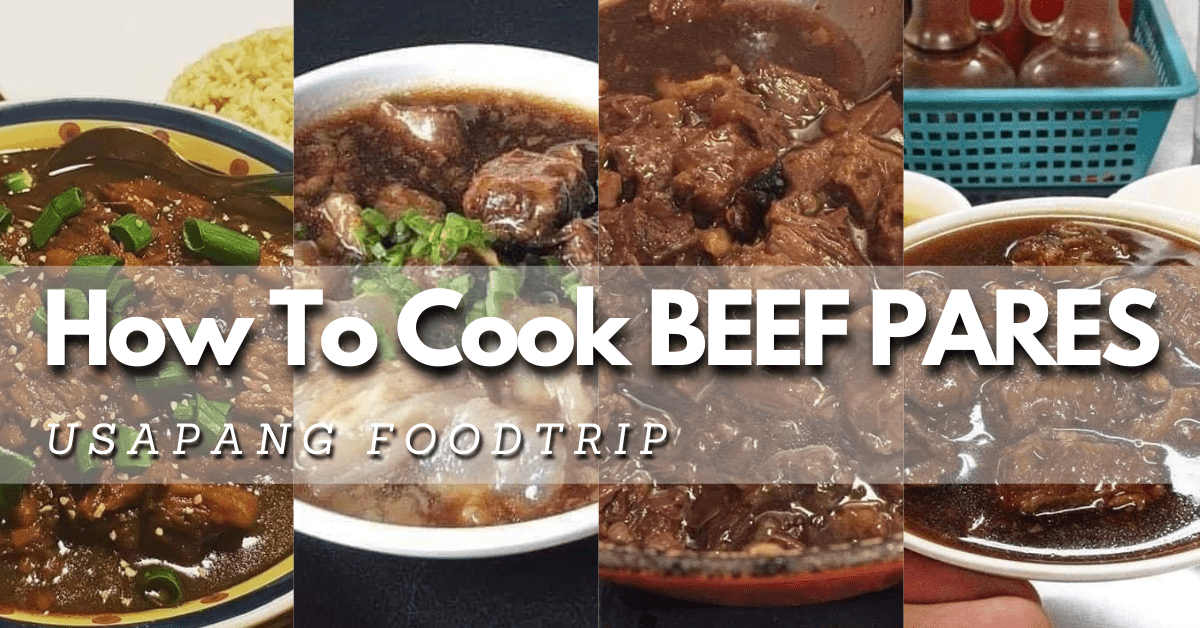 Usapang PARES tayo! Beef Pares is the best food pairing ever! Seriously you have to try this recipe to believe it! Cubed beef briskets cooked with spices and tenderized to perfection. The aroma of this dish alone is enticing. The taste is captivating.
Beef Pares is a Filipino braised beef dish that consists of various tastes and flavors. To make a tasty broth for the beef brisket, a mixture of soy sauce, water, sugar, and other spices is combined. Importantly, simmering the beef tenderizes it while also thickening the soup and extracting the beef's flavors. Be prepared to eat it with lots of rice!

"Pares" literally translates to "pair," and refers to a delectable combination of braised beef or beef stew and a bowl of soup.
Beef Pares Health Benefits!
Beef – Provides a large source of L-Carnitine; Provides the "master antioxidant" glutathione; High in Protein.
Star Anise – Rich in antioxidants; Good source of Vitamins A, C and E.
Onion – Good source of Vitamin C; Rich in B Vitamins and Potassium.
Garlic – Contains sulfur compounds; Rich in Vitamin C, B6 and manganese.
Ginger – Has antibacterial, antiviral, and anti-inflammatory properties; Rich in vitamin B3 and B6.
Green Chili – Source of Vitamin C and beta-carotene; Rich in antioxidants and calcium.
Celery – Source of Vitamins A, C and K; High in potassium and folate.
Did you know?
The Original Beef Pares Located at Espana Near Blumentritt Extension, Heres their Facebook page Don't miss it!
How to serve
To serve beef pares, ladle the consommé in serving bowls and garnish with spring onions. Divide the braised beef and sinangag on serving plates and enjoy with the broth.
Storing leftovers
For best results of Beef Pares, store the meat, broth, and rice in separate containers. Refrigerate for up to 3 days or freeze for up to 2 months. Reheat on the stovetop over medium heat or in the microwave at 2 to 3-minute intervals to 165 F.
Related Article Click HERE
Beef Pares Recipe
Pares or beef pares is one of the popular dish which is equivalent to braised beef.
Ingredients
1

kilo

Beef Brisket cut into cubes

1

head

minced garlic

1

medium

size onion quartered

1

large

onion chopped

1

tbsp

grated ginger

1/2

cup

soy sauce

1/2

cub

brown sugar

2

pcs

star anise

1

tsp

ground pepper

1

tsp

cornstarch

1

tsp

sesame oil (optional)

Salt to Taste
Instructions
How to cook beef pares :
Boil the beef briskets in a pot with water, salt and onion. Remove the scum and cook until tender.

Transfer the meat to a bowl and set aside. Don't throw away the soup stock and set aside also.

In another pot or deep pan, sauté the ginger, garlic and onion.

Put the boiled meat and stir fry for a few minutes and season with soy sauce, brown sugar, star anise and pepper.

Pour about 2 cups of soup stock. Simmer for about 5 minutes.

Add the cornstarch mixed with a little water to the pot to thicken the sauce.

Season with sesame oil and transfer to a bowl. Garnish with fried toasted garlic.

Serve with garlic rice and soup stock garnished with scallion.

At lagyan ng pagmamahal habang nagluluto <3
Here's some other Beef recipe for you – Try this Oily Beef Mechado
---
---