Why is 'Friday Munggo' day? – Ginisang Munggo Recipe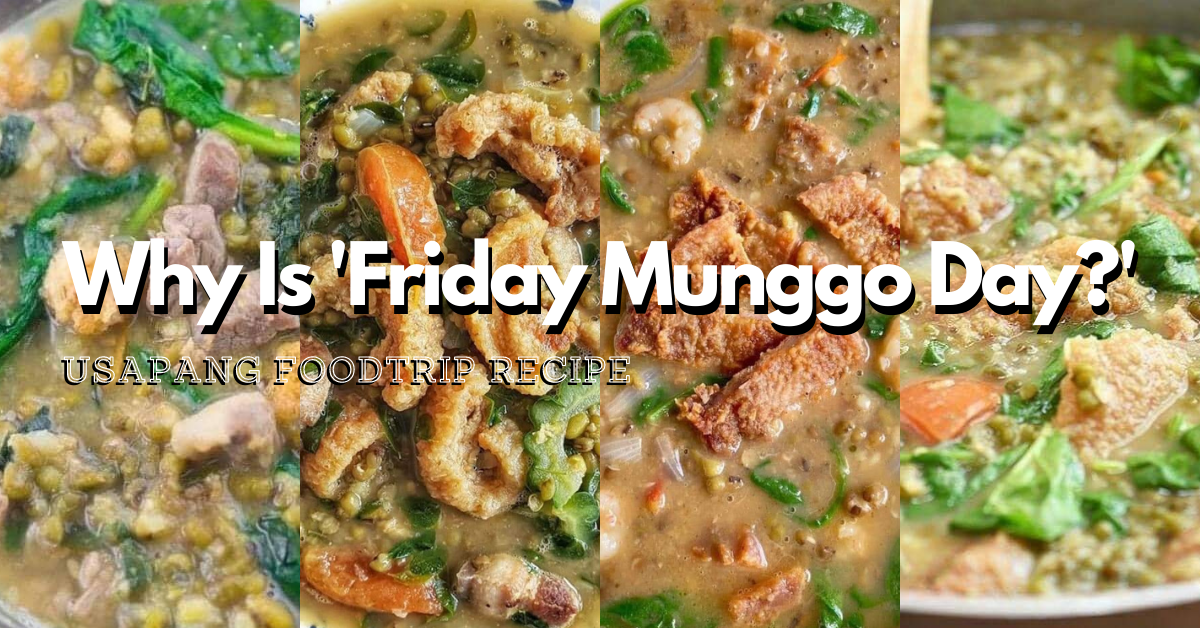 Why is 'Friday Munggo' day? Ginisang Munggo Recipe
Usapang Munggo tayo mga ka-foodtrip! Bakit nga ba kakambal n ng FRIDAY/BIYERNES ang ulam na munggo?
Every Friday, "munggo" is the most common meal among the Filipinos, don't you notice? I know it's because some are avoiding MEAT every Friday (as part of a Catholic tradition) but why "munggo" has been branded as a Friday meal?
Filipinos, back in the old days, do their market trips on weekends, specially Sunday. If you have noticed it, most palengke have their "Palengke Day" every Sunday. and not a lot people owned fridges in the olden days….And since they do their shopping on Sundays, by Friday, the only produce that is not spoiled is dried monggo.
Some readings suggest that the tradition of cooking ginisang monggo every Friday is due to the Lenten Season. You have to sacrifice something and eating meat is one, that's why, instead of cooking meat on Friday, Filipinos prepare ginisang monggo. Monggo's really cheap so that's the best option when you're running low in cash.
Tips on How to Make Ginisang Monggo:
No need to presoak the mung beans, they cook quick enough and will be tender and ready to saute in about an hour. Please note, though, that older beans will take longer to soften.
If you don't have time to wait for hours for the monggo beans to soften, you can cook them in a pressure cooker and have it ready for cooking in 10 to 15 minutes.
If ampalaya leaves or bitter gourd leaves are not available in your area, you can use malungay leaves, spinach leaves, or even mustard leaves. They taste just as great and they are nutritious too!
Swap for the chicharon. Not a fan of pork cracklings? Try flaked Tinapa or crispy dilis! You can add Tofu aswell!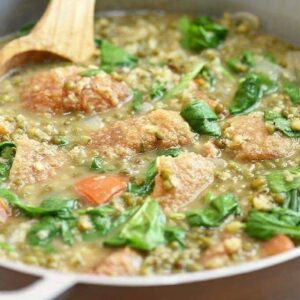 Ginisang Munggo with Pork or Chicharon
Ginisang Munggo at Chicharon is a delicious mung bean stew flavored with pork cracklings. Thick, hearty, tasty and budget-friendly, it's the ultimate comfort food!
Ingredients
1

cup

Munggo Beans

6

cups

Water

1

tbsp

Vegetable Oil

1

pc

Onion

Peeled and sliced thinly

3

cloves

Garlic

Peeled and Minced

1

Large

Kamatis (Tomato)

Chopped

2

cups

Chicharon

1

bunch

Ampalaya Leaves or Spinach

You can use MALUNGGAY leaves aswell

Patis (Fish Sauce) for taste

Salt and Pepper for taste
Instructions
Sort through the mung beans, discarding discolored or shriveled beans and any grit or dirt. Rinse beans in cold, running water until water runs clear. Drain well.

In a large pot, combine mung beans and water. Over medium heat, bring to a boil skimming froth that floats on top.

Lower heat, cover, and continue to cook for about 45 to 50 minutes or until beans have softened and skins have burst. Add more water as needed to maintain about 4 cups.

In another pot over medium heat, heat oil. Add onions and garlic and cook until tender and aromatic. 

Add tomatoes and cook, mashing with the back of the spoon, until softened.

 Add fish sauce and continue to cook for about 1 to 2 minutes.

Add cooked Munggo beans including liquid. Bring to a boil. 

Add pork cracklings and continue to cook until softened. Season with salt and pepper to taste.

Add spinach, turn off heat and cover pot for about 1 to 2 minutes or until spinach is just wilted. Serve hot.

FRIDAY MUNGGOY DAY EVERYONE! Happy Foodtrip! 🙂
---
---