Crispy Pork Kare-Kare Recipe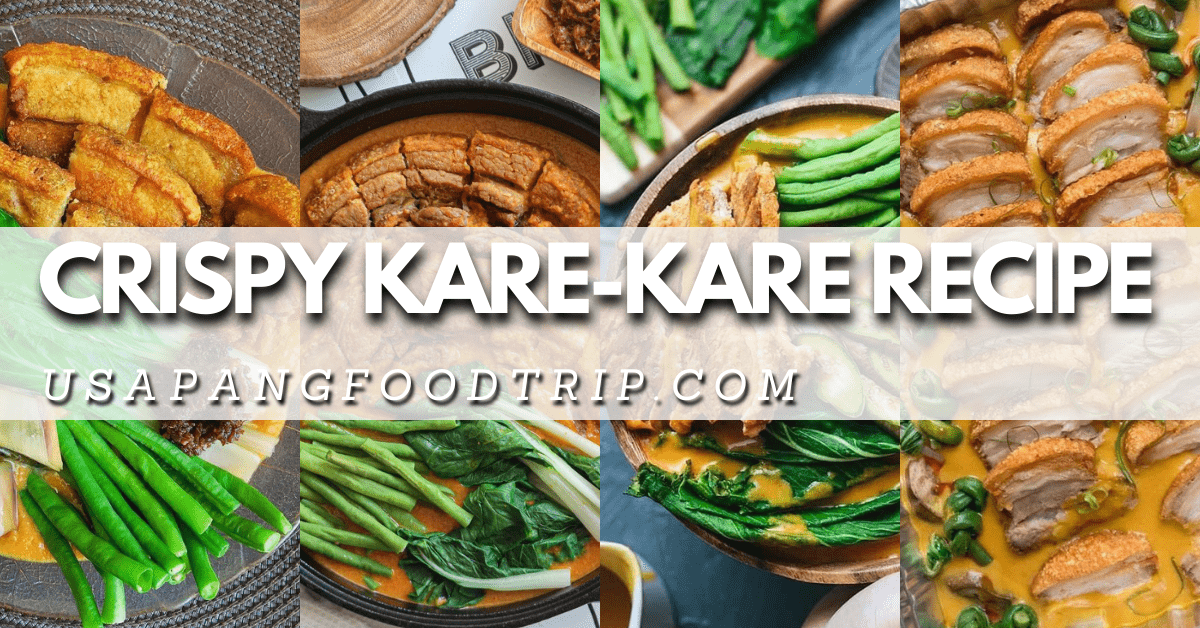 Usapang Kare-kare tayo mga ka-foodtrip! What happens when you combine two Filipino dishes? You'll get the best menu in both worlds: Crispy and Juicy Meat of Lechon Kawali and the delicious nutty sauce of kare-kare. WoW-lap!
Isa ito sa mga una mong tinitignan kapag kayo ay nasa restaurant, plating palang talaga namang nakakagutom na! Eto na ata ang isa sa benchmark ng mga pinoy pagdating sa panlasa sa pagkain. Maraming klase ng kare-kare isa narito SEAFOOD Kare-Kare, BEEF Kare-Kare, PORK Kare-Kare, PATA Kare-Kare pero ngayon mag-fofocus tayo sa isa sa mga the best type of KARE-KARE (IN THE WORLD!) Ito ang CRISPY KARE-KARE!
---

---
What is Kare-kare?
Kare-kare is one my favorite Filipino dishes. Origin of this dish is a bit vague, most believe that it originated from Pampanga, known as the culinary center of the Philippines. It is a stew with meat, peanut sauce and an assortment of vegetables. It is always paired with bagoong or shrimp paste to give it that distinctive taste. Traditionally, oxtail and tripe is used for this recipe, boiled several hours to make it really tender. It also gets its yellow or orange color from 'achuete' or annatto and the thick sauce from the combination of peanut sauce and sticky or glutinous rice paste or flour. To describe how it tastes is a bit difficult. The sauce itself is not salty, in fact, others might say it is a bit bland but I guess that is what makes it good because you can get a good taste of the ingredients.
---
What is the Health benefits of Kare-Kare's Peanut sauce?
Health benefits of peanut butter
Weight loss. Several studies suggest that eating peanuts and other nuts can help people maintain their weight, or even help with weight loss.
Boosting heart health.
Bodybuilding.
Managing blood sugar levels.
Reducing the risk of breast disease.
---
Crispy Pork Kare-Kare Recipe
This is a variation of the all time Pinoy favorite, the kare-kare dish. This is a creative version of the pork pata kare-kare where the pork pata or pork hocks are cooked first as a crispy pata.
Ingredients
800-1000

grams

Pork Belly

1

large

Onions

Chopped

4

cloves

Garlic

Minced

50

grams

Peanuts

Crushed

5

tbsp

Peanuts Butter

Smooth No Sugar

7

grams

Annato Powder or 4 tablespoon Annato oil

2

Aubergine

Cubed & Fried

120

grams

Green peas

Tailed & Halved

900

ml

Water

100

ml

Water

3

tbsp

Shrimp Paste (BAGOONG)

Ready sautéed

180

Mushrooms

Chopped

1

tbsp

Salt

1

tsp

Ground Pepper

Oil

For Deep Frying
Instructions
In a large pot, boil some water and add cook the pork belly for 40 minutes. Take it out of the boiling water, drain and leave it on the side for later.

For the peanut sauce, mix annato/aschuete powder with 100ml water, mix it all together until it incorporates with the water and set it aside for later. Skip this step if you are using annato oil and go to the next step.

Add some oil (or annato/aschuete oil) into a pot and saute your onions until it turns translucent. Add garlic, cook for a minute and then add some water into the pot. Bring it to boil on high heat, once boiled turn it down to medium heat, add your annato powder & water mixture and add peanut butter. Mix them all until the peanut butter is melted, turn the heat to low. Add salt and ground pepper. Simmer for another 10 minutes.

Steam your green beans, mushrooms and pak choi until cooked and set aside for later.

Taste your peanut sauce, add more salt if required but don't forget that you will have some salted shrimp paste to complement the finish dish later. Turn the heat off your peanut sauce.

In a large pot or if you have a deep fryer, add some oil and heat it before frying the pork. When frying be careful as it may spit! Cook the pork until crispy and golden. Set side until all the pork is deep fried.

When serving, add some peanut sauce in a bowl, carefully add some pak choi, fried aubergine, mushrooms, green beans and crispy pork on top. Garnish with crushed peanut and add a teaspoon of shrimp paste on the side.
---
---