Ginataang Bilo-Bilo Recipe
Ginataang bilo bilo is a simplified version of ginataang halo-halo, prepared sans the saba bananas and sweet potatoes. Like the latter, this simple concoction of glutinous balls, mini sago pearls and jackfruit strips is also widely enjoyed as a dessert or midday snack. Although this ginataan will keep safely in the refrigerator for a couple of days or so, it is best consumed fresh from the pot as the rice balls tend to harden when cold. Not a problem, really, as I hardly have leftovers with everyone happily digging in to the last drop.
Ginataang bilo-bilo a sweet, rich, and decadent dessert soup filled will lots of goodies. It is made with coconut milk (or coconut cream) and a variety of different fruits and tubers. "Bilo-bilo" are the handmade sticky rice balls in the soup.
RECIPE NOTES:
If you happen to combine flour and water all at once and the mixture becomes very sticky, don't worry, you can always adjust it. No exact measurement here because the goal is to make a dough. Not too sticky but not hard or dry or they will crumble when rolled. I noticed that different brands of glutinous rice flour have different water absorption so you need to adjust them as needed.
Ube food color is optional. You can omit if desired and just make them all plain. I thought of adding ube flavor to add some flavor and color as well. It looks more appetizing when ube is added.
The coconut cream will continue to thicken as it cools.
Leftover can be stored in the refrigerator in an airtight container for up to 3 days. To reheat, microwave a bowl of Bilo-Bilo for about 1-2 minutes.
To cook the mini sago or tapiocal pearls, boil water in a pot. Add sago and boil the pearls until cooked or color becomes clear about 12 minutes. Drain and rinse in cold water. Set aside.
I used sweetened jackfruit in syrup that's in a small bottle when purchased.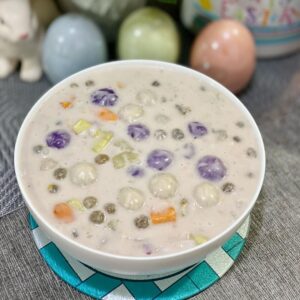 Ginataang Bilo Bilo Recipe
Ginataang Bilo Bilo with sticky glutinous rice balls, sweet potatoes, plantain bananas, sweet jack fruit, and tapioca pearls! All cooked in creamy coconut milk to make an extraordinary dessert!
Ingredients
1-1/4  to 1-1/2

cups

Water

adjust as needed

1/4 

tsp

Ube Flavor

2

cups

Water

2

cans

(13.5 oz/ 400ml) Coconut milk

1-2

large

Sweet potato

cubed

3

large

Saba/plantain/cardaba banana

cubed

1

cup

Tapioca pearl (sago)

cooked

1/2

cup

Jackfruit syrup

1

cup

Sugar

1

cup

Sweetened jackfruit

sliced into strips
Instructions
In a medium bowl add rice flour. Gradually add the water and mix until a dough is formed. Take about 1/2 tablespoon of the dough and shape it into a ball. Once half of the dough is formed into white balls, you can add a small amount of ube flavor on the remaining dough and mix again. If the dough becomes sticky, you can add about 1/2 tbsp of flour to make a dough. Again, take about 1/2 tablespoon of the dough and shape it into a ball. Place all formed rice balls on a large tray. Set aside.​

In a large pot, combine water and 1 can of coconut milk.  Stir occasionally until it boils. Drop in the dough (rice balls).  

When the dough starts to float, add the sweet potatoes and cook until half-cooked. Add saba (plantain) bananas and continue cooking for about one minute. 

Add 1 can coconut milk, jackfruit syrup, sugar, cooked tapioca pearls (sago) and sugar. Stir to combine. Add tapioca pearls and sweetened langka. Cook for another 3-5 minutes or until the sauce is slightly thick. 

Serve warm or cold. Enjoy!
---
---