Sizzling Sisig Recipe
In its home province of Pampanga in the central Philippines, sisig is a rough-hewn dish of chopped pig ears and jowls, first boiled, then braised and fried before ending up heaped onto iron sizzle platters. This place is considered as the culinary capital of the Philippines. It was invented by Lucia Cunanan. She is popularly known as Aling Lucing and the Sisig queen.
The US military bases located in the town might have played a role in the invention of this dish. People can buy cheap pig heads in commissaries because these are not normally consumed inside the base. Meat from the pig heads are scraped out, boiled, grilled, and made into what is now known as Sisig.
---
WHAT IS SISIG?
Sisig is a traditional Filipino dish that likely dates back to before the 17th century, so it's nothing new. But that doesn't exclude it from seeing a sudden burst of interest (think kimchi). If you've started hearing sisig pop up in conversation of late, that might be because Anthony Bourdain recently told CNN that he thinks Filipino food is about to become one of the trendiest cuisines in America and the chopped pork dish could be many first-timers' gateway into those flavors.
"I think sisig is perfectly positioned to win the hearts and minds of the world as a whole," Bourdain said, adding that "traditional Filipino food has sour and bitter notes, which are very unfamiliar to Americans."
But American palettes are changing, and as a result the television host and world traveler thinks Filipino food "has a really bright future," in the States.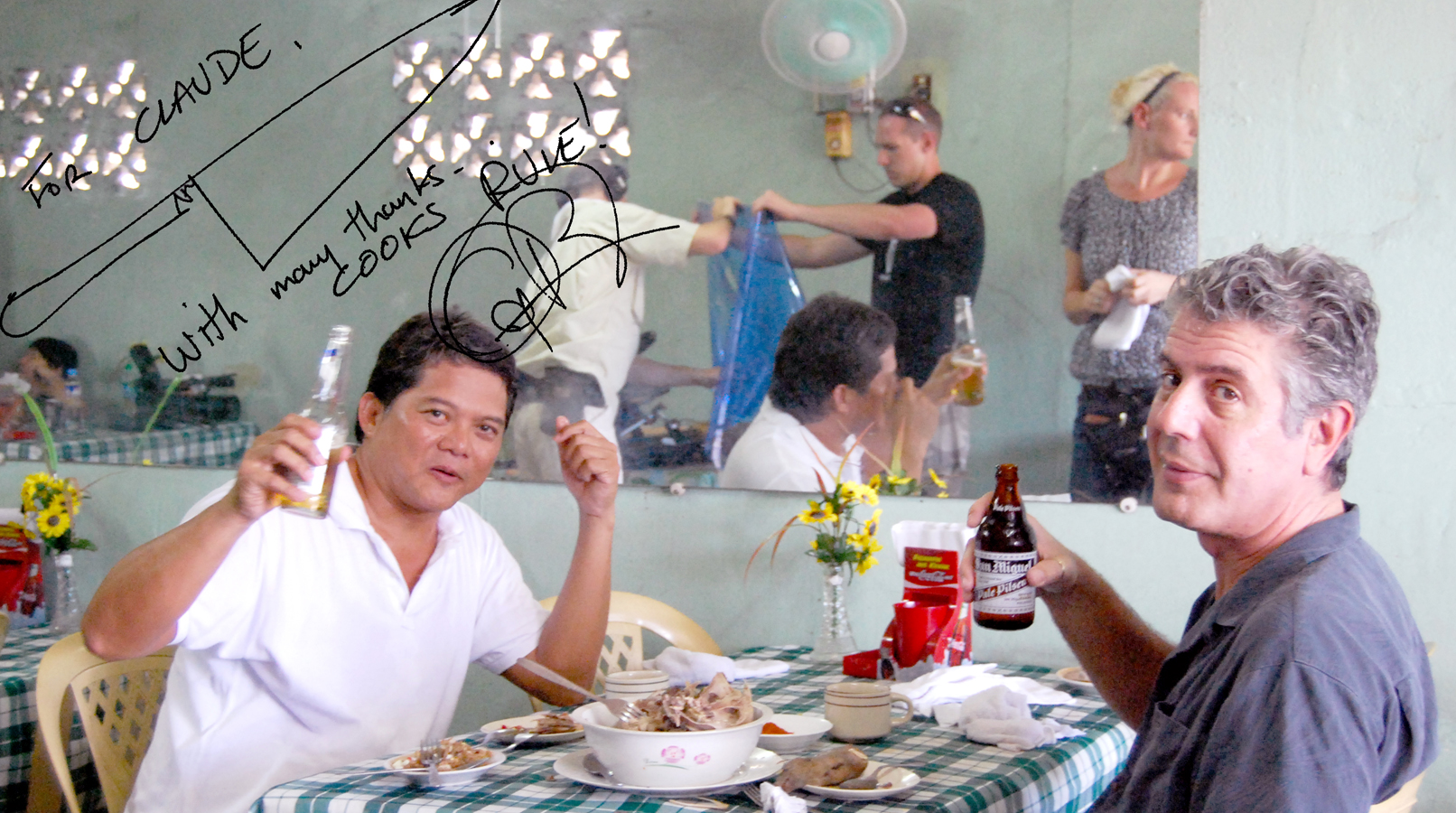 ---
HOW TO MAKE SISIG
To make this appetizer, the pork is first boiled until tender and then grilled on a hot grill or quickly blanched in hot oil until lightly crisp. The meat is then finely chopped and tossed together with diced onions, chili peppers, calamansi juice, and seasonings.
Some recipes add mayonnaise to the pork mixture for a touch of creaminess, but it's not traditional in Kapampangan version. I usually skip it as sisig with mayo tends to spoil faster and do not reheat well.
Chicken liver is also a classic ingredient in this spicy appetizer. The organ meat is usually grilled and chopped finely before mixing with the pork, but my aunt who happens to make the meanest sisig on the planet taught me a secret that's easier and tastier-liver spread!
The process does take a bit of work, especially if preparing a huge batch for a large crowd. I suggest doing parts of it ahead of time like boiling the pork to tenderness the night before and then grilling and chopping on the day of the event.
The sisig recipe below is more of a method and a baseline you can easily customize to suit personal tastes. Want more or less heat? Love the citrusy flavors of calamansi? Prefer the texture of cartilaginous pork ears over the fatty pork snout? Feel free to adjust ingredient amounts to your liking.
Pork Sisig Recipe
Sizzling Sisig makes a great party appetizer as well as a hearty dinner entree. A delicious combination of juicy pork and tangy, savory and spicy flavors, it's seriously addictive!
Ingredients
1

lb

Pig Ears

1 1/2

lbs

Pork Belly

1

pc

Onion

Minced

3

tbsp

Soy Sauce

1/4

tsp

Ground Black Pepper

1

knob

Ginger

Minced (optional)

3

tbsp

Chili Flakes

1/2

tsp

Garlic Powder

1

pc

Lemon or 3-5pcs Kalamansi

1/2

cup

Butter or Margarine

1/4

lb

Chicken Liver

6

cups

Water

3

tbsp

Mayonnaise

1/2

tsp

Salt

1

pc

Egg

Optional
Instructions
Pour the water in a pan and bring to a boil Add salt and pepper.

Put-in the pig's ears and pork belly then simmer for 40 minutes to 1 hour (or until tender).

Remove the boiled ingredients from the pot then drain excess water

Grill the boiled pig ears and pork belly until done

Chop the pig ears and pork belly into fine pieces

In a wide pan, melt the butter or margarine. Add the onions. Cook until onions are soft.

Put-in the ginger and cook for 2 minutes

Add the chicken liver. Crush the chicken liver while cooking it in the pan.

Add the chopped pig ears and pork belly. Cook for 10 to 12 minutes

Put-in the soy sauce, garlic powder, and chili. Mix well

Add salt and pepper to taste

Put-in the mayonnaise and mix with the other ingredients

Transfer to a serving plate. Top with chopped green onions and raw egg.

Serve hot. Share and Enjoy (add the lemon or calamansi before eating)
---
---