Top 10 Filipino Breakfast Of All Time
We Filipinos love to eat here's the list of top filipino breakfast for you! Aside from breakfast, lunch and dinners, we also eat in-between meals like a 'pampa-init' in the morning before the actual breakfast with rice, snacks before lunch and merienda during mid-afternoon and there are even some who would still grab a quick midnight snacks.
Since rice is the staple food for us Filipinos, We did not include it in our list of favorite Filipino breakfast. Instead, We listed the usual food that we would usually see in a Filipino breakfast table.
Here are the top 10 foods you would usually see in a typical Filipino breakfast table:
1. PANDESAL AND COFFEE
Pandesal (Bread of Salt) is probably the most in demand bread in the Philippines because it is one of the most favorite breakfast foods for most Pinoys.
It can be eaten with "palaman" or filling such as my personal favorite, scrambled or sunny side up egg, peanut butter, Cheez Whiz or a slice of cheese, Hotdog or DariCreme. But for us we simply dips our Pandesal in a hot coffee.
Pandesal is so in demand that you will not be able to buy this if you do not wake up early. You would normally see people lining up in front of a bakeshop every morning just to buy pandesal for breakfast.
2. CHAMPORADO
Champorado is another personal favorite of mine. It is a sweet chocolate rice porridge and "tableya" as main ingredients. A more traditional approach would be using instead of cocoa powder.
It can be eaten during breakfast or "meryenda" (snacks in the afternoon). Most people prefer to eat champorado with "TUYO" or salty dried fish but we personally like it with milk on top.
3. TAPSILOG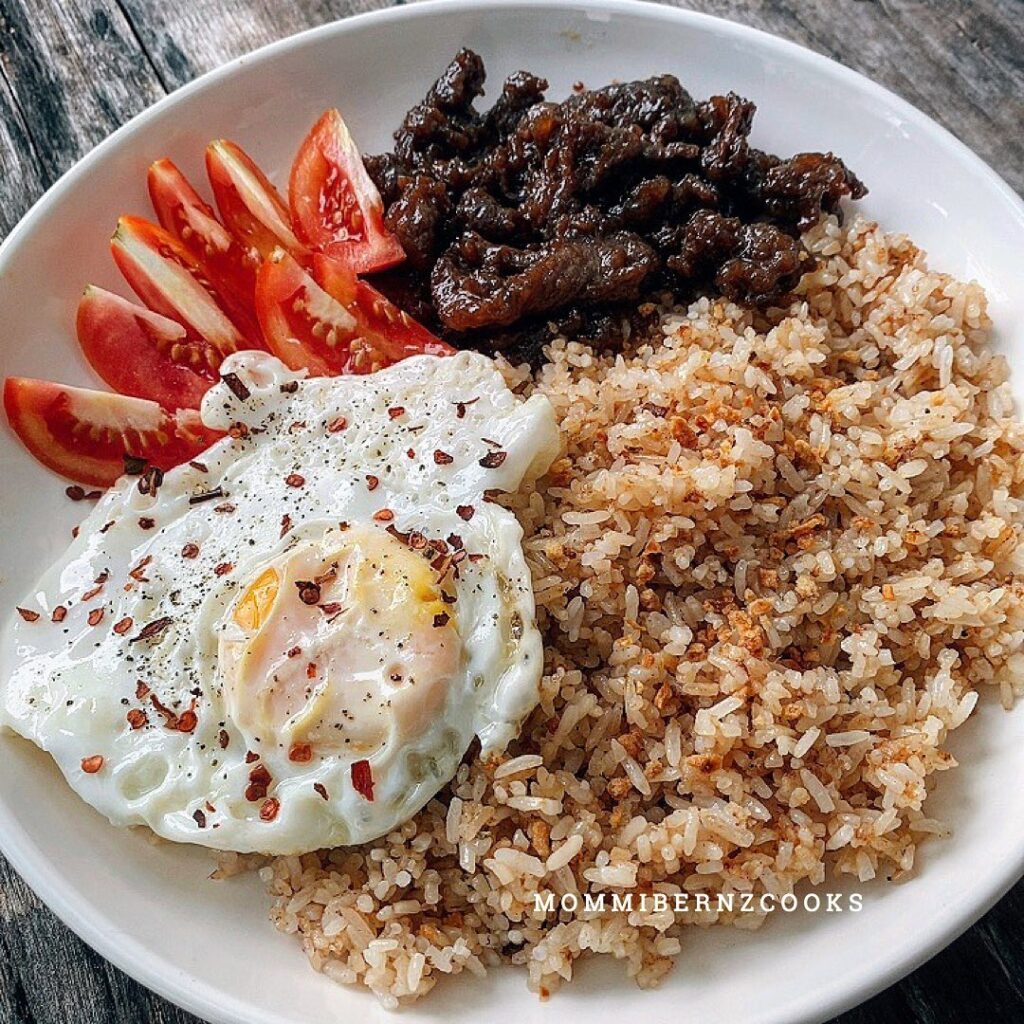 One of the most common breakfast staples in the Philippines is tapsilog, a plate which consists of sliced beef jerky, known as tapa, a heap of garlic rice, and a fried egg. It is believed that the dish grew out of necessity, to cater to the needs of many workers who were in search for a quick, cheap, and nutritious breakfast.
Eventually, tapsilog was incorporated on the menus of many Filipino fast food chains and specialized tapsihan eateries. Nowadays, it appears in numerous varieties, and even though it is still a favorite Filipino breakfast it can be enjoyed at any time of day or as a satisfying late night snack.
4. TOSILOG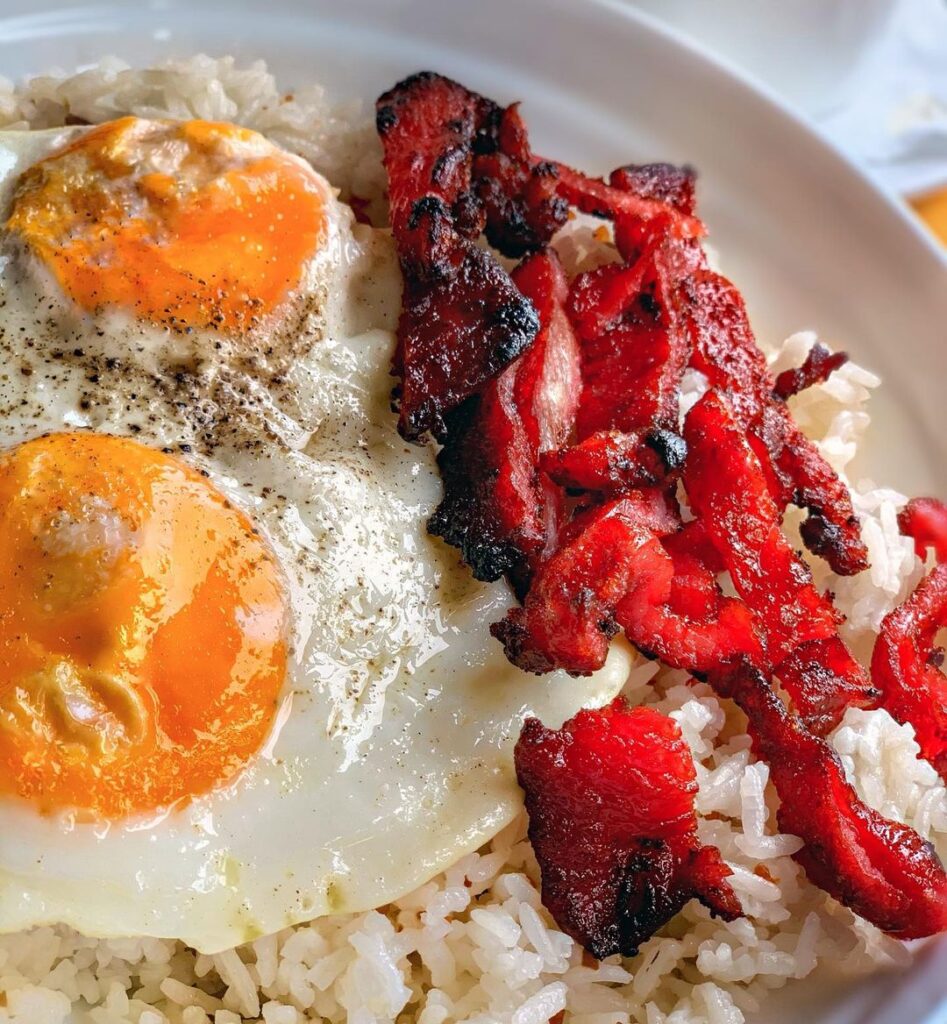 Tocino is the Spanish version of bacon and is another favorite breakfast of Filipinos. It is easy to prepare; you can either boil it in a small amount of water or fry it in oil. It has that delectable smell that would surely awaken your taste buds.
Tosilog is one of those rice breakfasts we have in the Philippines where it is made out of tocino (a sweet fried pork), itlog (fried eggs) and sinangag (garlic fried rice) usually served with coffee.
5. LONGSILOG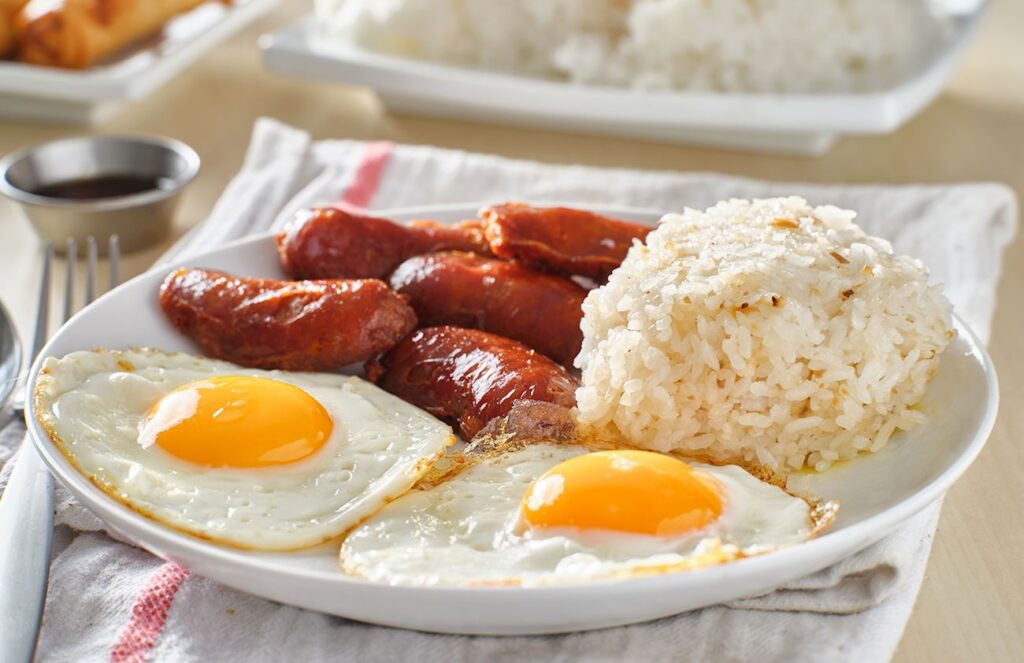 Longanisa is the Filipino version of chorizo. Breakfast is perfect if this is served with sinangag and sunny side up egg and a hot coffee. This is a favorite in most regions in the country. There are other varieties of langonisa, but the most in demand are the ones made from ground pork meat
6. CORNED BEEF (KARNE NORTE) – CORNSILOG
Corned Beef is a meal composed of sautéed corned beef with onion. The corned beef used in this recipe are the ones in can. I used a Filipino brand, which was really good. You can also use it as "palaman" of pandesal or sliced break.
It is one of the most frequently served breakfast in every Filipino household because it is easy to prepare, perfect for people who are always in a hurry every morning like students and those who needs to go to work early in the morning.
7. FRIED EGG (PRITONG ITLOG!)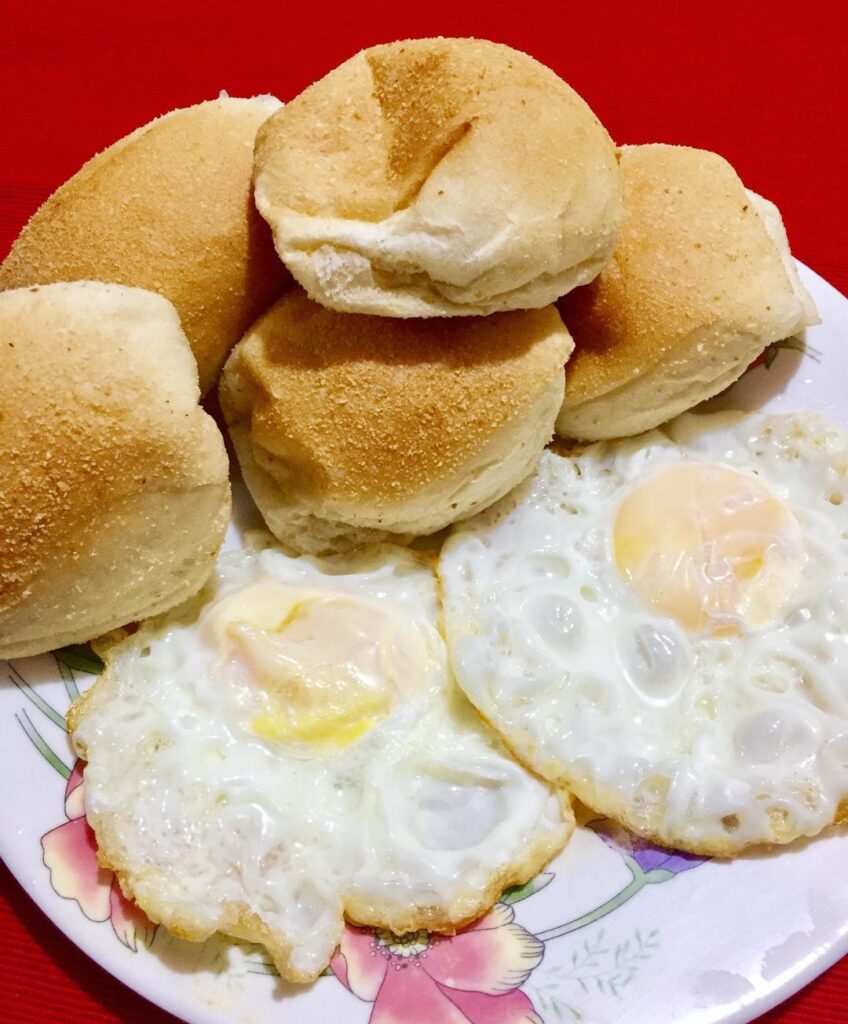 Eggs are popular Pinoy breakfast. May it be a boiled egg, sunny side up or "tortilla" (scrambled eggs), Filipinos would never say no to that for breakfast. My mother usually put chopped tomatoes and union to their tortilla, but I prefer a plain scrambled egg. Actually, my favorite is the sunny side up, I like it with bread or rice for breakfast.
The sunny side up is commonly served with a combination of sinangag + karne norte (corned beef) or longanisa or tapa or tocino. They are called, cornsilog, longsilog, tapsilog and tosilog among other silogs.
They are so in demand that you can find establishments who specializes on silogs called "tapsilogan" all over the Philippines. Their usual customers are the working sector who no longer have the time to make breakfast on their own.
8. "TUYO" (Dried salted Fish)
Pan-fried Tuyo dipped in native vinegar + sinangag + hot tsokolate or coffee is equals to a perfectly appetizing Filipino breakfast.
Tuyo is a sun-dried fish usually served during breakfast, but it can also be served during snacks to pair with champorado or during other meals such as lunch and dinner.
It is easy to prepare and the crunchy fish would make you want to eat more rice. So if you are trying to lose some weight, this might not be ideal for you.
9. LUCKY ME – PANCIT CANTON
There's several things that you'll find in any Filipino household, and on the top of the list is Lucky Me Pancit Canton.
But Pancit Canton is not just a quick dish you can whip up in 5 minutes – the humble ingredient can be transformed into creative Pancit Canton recipes that will add variety to your daily meals. Here are 10 different ways to cook Pancit Canton, which you can do in your own home during this quarantine period.
10. TORTANG TALONG
Tortang talong is an eggplant omelet. It is simple but yummy Filipino food. You can make this in less than 30 minutes. All you have to do is; grill the eggplants then soak it in a beaten egg mixture and then fry. Just like other Filipino dishes, this can be served during breakfast, lunch and dinner served with plain rice. For a tastier tortang talong, dip it in a soy sauce with calamansi.
---
---